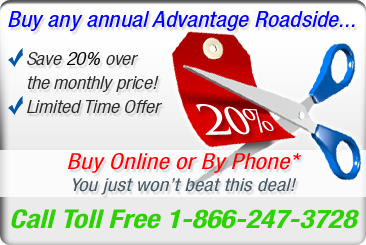 Roadside Assistance - Advantage Plans
For maximum protection, Advantage Roadside covers you for automobiles and motorcycles and gives you all the roadside benefits of Classic coverage with the added security of higher limits on covered roadside services at the time of a breakdown.
You'll also find our extensive list of Advantage only emergency benefits and member discounts quickly add up to save you more than the annual price of your plan! Even better, our roadside plans cover you whether you are driving a vehicle you own or not.
*Purchase an annual Advantage Roadside Plan and the price calculated at checkout will reflect a 20% savings over purchasing monthly. Rebate restrictions apply to receive full value. Call for full details.
Roadside Assistance is the most affordable way to protect you and your family during a breakdown. It provides nationwide service with multiple benefits such as towing, flat tire assistance, battery jump start, fluid/fuel delivery, lock-out service, minor mechanical adjustments and additional services depending on the level of coverage (Classic or Advantage) you select. With a membership through Paragon Motor Club, you simply sign the receipt and drive away. We pay the bill and take care of everything else.
All our roadside plans deliver security for you and your family on the automobiles within your household. Choose your desired level of protection and start enjoying Paragon Motor Club's membership benefits today!