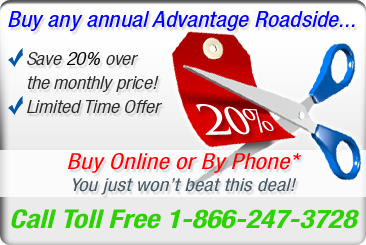 Roadside Assistance
What you want is fast, reliable, emergency Roadside Assistance for you and your family. Paragon Motor Club offers progressive levels of emergency roadside service and expense protection, designed to fit your budget and help you when you really need it. Roadside Assistance dispatchers are available 24 hours a day, 7 days a week, throughout the US and Canada.
Business owners and managers should visit our Fleet Roadside Division for business class Roadside Assistance coverage.
*Purchase an annual Advantage Roadside Plan and the price calculated at checkout will reflect a 20% savings over purchasing monthly. Rebate restrictions apply to receive full value. Call for full details.